It's that time again! Our Wellness Within Your Walls spotters are hard at work at the spring High Point Market, eyes peeled for amazing products of all types, from fun to useful to beautiful, from big to small.
Our favorite part of the job? How thrilled a vendor is when we tell them that we recognize  their efforts to protect their customer and the planet.
Our biggest surprise? The number of companies that don't realize yet how unhealthy their products are, or how big the demand is for home furnishings that don't bring toxic chemicals into a home.
Here are two of our first finds this spring.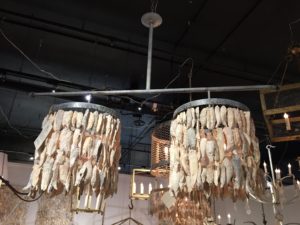 This double drum light fixture, from Low Country Originals, uses recycled metal and natural oyster shells gathered off the coast of Georgia, so falls into both our natural and Sustainable categories.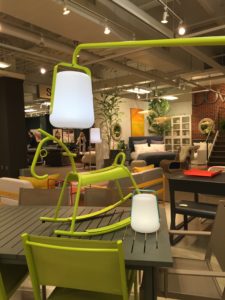 For lighting with a completely different flair, check out the Balad rechargeable lanterns from Fermob, available in seven great colors.  Not only do we love this French company because of their fun and fresh garden furniture, they're also amazingly forward thinking about the health and welfare of their employees and the environment. In addition to being ISO 14001 certified, which maps out a framework for setting up an effective environmental management system, they use solvent free paints, optimize raw materials and energy consumption, and use recycled metal and canvas. Especially fitting for an outdoor furniture company that wants us to spend time in the great outdoors!