We all certainly spend a lot of time sitting. Too much time, right? But if you choose carefully, you can at least make sure you're not plopping down on a chair full of toxins. Today's highlights from High Point–spots for sitting.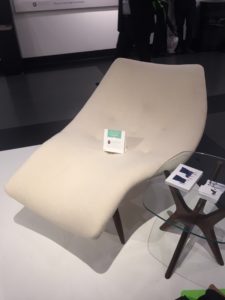 First, from Craft Associates, the oh so Modern Chaise Lounge which falls into all three of the Wellness Within Your Walls categories. It's constructed with organic natural fabrics, wood species sustainably grown in Ohio, and natural foams and filler. Chic modern design meets a company with a responsible manufacturing process.
Next, another modern choice, the Lucia Mod Chair from Justina Blakeney for Selmat Designs, is made of  rattan and finished with a water based sealant. The company was founded with a mission to create beautiful accessories with the leftover materials of the furniture industry.  We love this bohemian chic indoor/outdoor line, which achieves our Natural, Sustainable and Responsible categories through its use of a natural, rapidly renewable reed.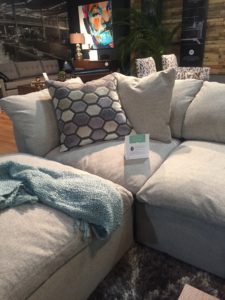 Last but far from least, the Bryan Sectional from Joybird which falls into our Sustainable and Responsible categories.  Available in organic cotton fabric with Trillium fill–a hypoallergenic fill made entirely of recycled water & soda bottles.  For every loveseat or sofa purchased,  2-4 trees will be planted, and, since all pieces are made to order, no materials are wasted!