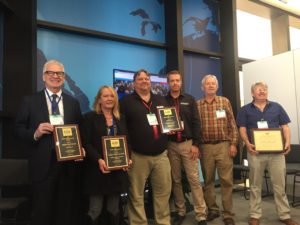 More huge news from the International Builders' Show! We're absolutely thrilled and honored that Wellness Within Your Walls was named a winner of this year's National Association of Home Builders Global Innovation Award. Pictured here, WWYW founder Jillian Pritchard Cook with the other nominees and winners.
Here's what Patrick Coveny, president of Architecture Construction Management and an NAHB Global Opportunities board member had to say about us during the ceremony: "Wellness Within Your Walls has created an innovative and well-conceived, common-sense approach to environmental education. When the lessons are applied, they can have a significant impact on the quality of indoor air and the environment."
According to NAHB, "the GIA award annually recognizes cutting-edge, advanced and original products or marketing strategies by global or domestic NAHB member companies that offer products or services to consumers."
Thank you to NAHB! We're so honored to have your support.